Reading Time:
2
minutes
Madaxweynaha xilheyntiisa dastuuriga ay idlaatay Farmaajo waa in uu joojiyo faragelinta uu ku hayo geedi-socodka doorashooyinka ee dalka uu u jiheystay, sida ay sheegeen musharaxiinta.
Midowga Musharaxiinta Madaxtinimada Soomaaliya ayaa digniintan soo mariyey war-saxaafadeed ay kusoo dhaweeyeen eryida ra'iisul wasaaraha xilgaarsiinta ee saraakiisha ka tirsaneyd hay'adda sirdoonka qaranka.
Rooble ayaa Jimcadii wuxuu xilka ka qaadey madaxii shaqaalaha NISA, Cabdullaahi Aadan Kulane, iyo taliyihii hay'adda mukhaabaraadka ee garoonka diyaaradaha Aadan Cadde, Cabduwahaab Sheekh Cali.
Sida laga soo xigtay warka qoraalka ah ee musharaxiinta, talaabadan "waa mid u adeegaysa sarreynta sharciga" ayaga oo ku booriyey dhinacyadda ay khuseyso "in ay ka dheeraadan wax kasta oo khilaaf abuuri kara".
"Goluhu wuxuu ku baaqayaa in talaabadda uu qaadey ra'iisul wasaaraha ay noqoto mid dadka oo dhan ay u wada siman yihiin oo ka dhaqan-gasha guud ahaan dalka," ayaa la raaciyey bayaankan uu arkay Garowe Online.
Warar soo baxaya ayaa sheegaya in Villa Soomaaliya aysan "ku qanacsaneyn" talaabadda ra'iisul wasaaraha xilgaarsiinta. Balse, ma cadda haddii ay Madaxtooyaddu ku fekereyso in ay ka mudaaharaadyo si siyaasadeysan.
"Goluhu wuxuu ugu baaqayaa madaxweynaha muddo xileedkiisa dastuuriga ah uu dhamaadey in uu ka waantoobo ku tumashada dastuurka oo uu caadeystay iyo faragelinta joogtada ah ee uu ku hayo geedi-socodka doorashooyinka uu dalka u jiheystay ee ah in ay ku dhacaan doorasho xor iyo xalaal ah oo ku qabsoonta mudada loo cayimay," ayaa lagu soo xiray qoraalka.
Farmaajo oo afartii sano ee lasoo dhaafay ku dhameystay isaga oo ay dul-hooganayaan eedeymo awood-sheegasho, nin jeclaysi iyo ku tumasho sharciga dalka ayaa mar kale u ordaya qabashadda kursiga ugu sareey dalka.
QORAALKA MUSHARAXIINTA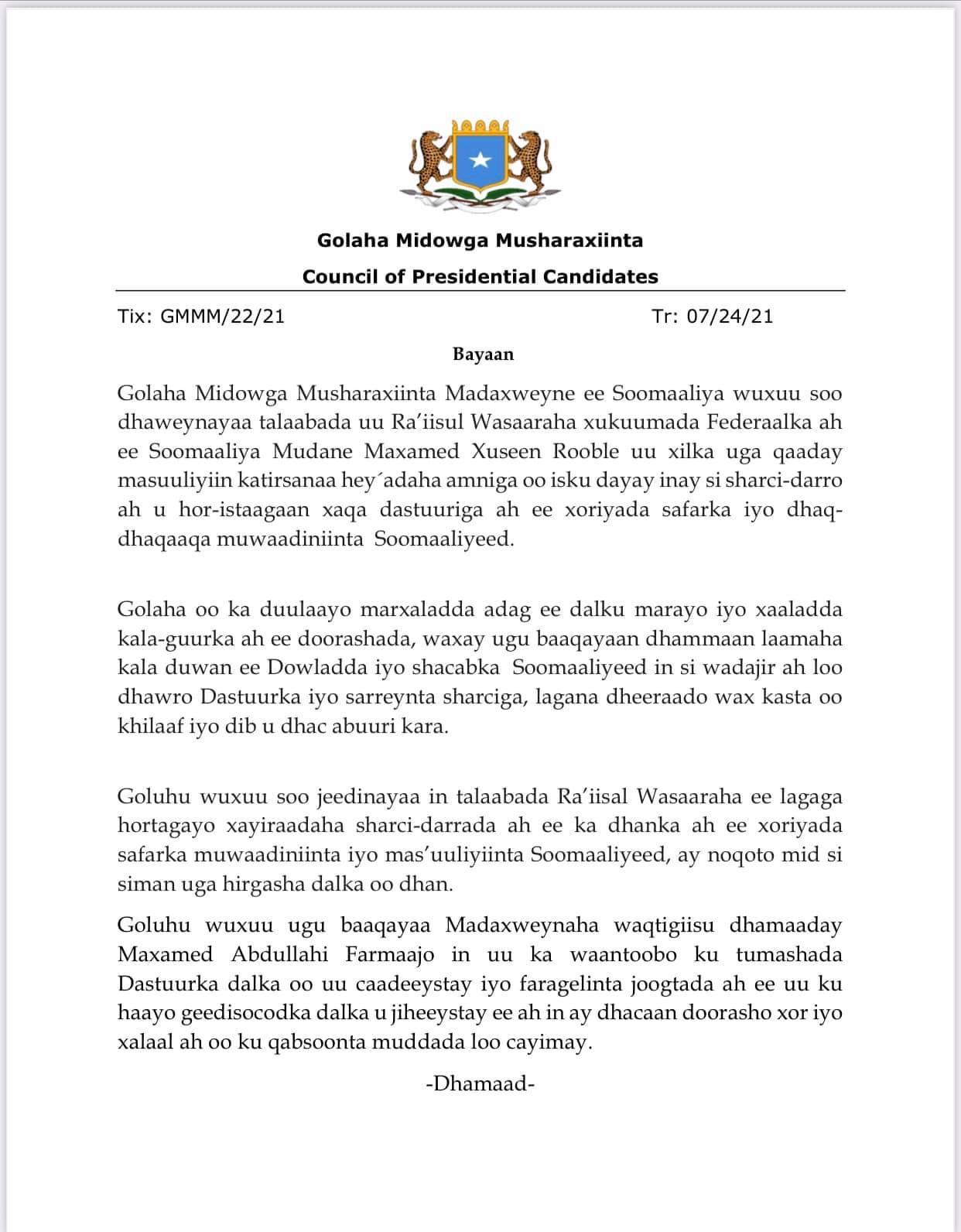 Facebook Notice for EU! You need to login to view and post FB Comments!